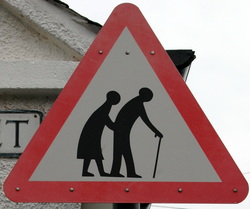 I celebrated a birthday recently. I won't say which one. Suffice to say, I'm getting older every year. Strange.
It does make me think about aging, and how different people approach it with such different attitudes. I am at an age now where I wish I lived in one of those cultures in which the elderly are treated with great respect. With age comes wisdom, that sort of thing.
I'm in the process of developing a character in
Deadly Memories: an Adam Kaminsky mystery
(working title) who is of a certain age. His age is a hindrance when he is attacked and loses all memory of the attackers and why they wanted him – the police assume he is simply forgetful in his old age and imagining things.
Perhaps it's easy for me to write that because I fully expect to become (more) forgetful in my old age. I've written before about
memory
and how it works or doesn't work, and why it fascinates me. Many of my books touch on the issue of memory. We assume we can trust our memories, but that way lies folly!
For now, I'll just enjoy being one year older and one year closer to that wisdom that I just know is around the corner.